Wicked Saints (Something Dark and Holy #1) by Emily A. Duncan
Genre: Young Adult Fantasy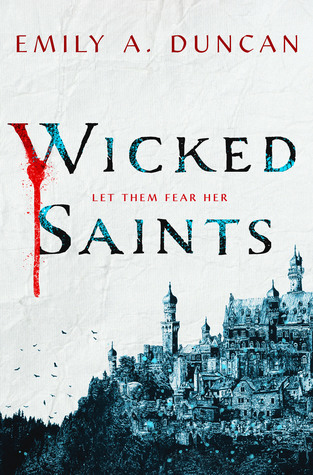 Publisher: Wednesday Books
Publication Date: April 2nd, 2019
Rating: 4.5 Stars
Synopsis: A girl who can speak to gods must save her people without destroying herself. A prince in danger must decide who to trust. A boy with a monstrous secret waits in the wings. Together, they must assassinate the king and stop the war.
In a centuries-long war where beauty and brutality meet, their three paths entwine in a shadowy world of spilled blood and mysterious saints, where a forbidden romance threatens to tip the scales between dark and light. Wicked Saints is the thrilling start to Emily A. Duncan's devastatingly Gothic Something Dark and Holy trilogy..
---
**REVIEW**
Disclaimer: First and foremost I would like to thank Emily A. Duncan, Wednesday Books/St. Martin's Press, and NetGalley for providing me an e-ARC in exchange for an honest review. This in no way sways my opinions, all thoughts expressed are my own.
I was obsessed with this book from the very first chapter!
This dark, and entrancing story revolves around three central characters, Nadya, Malachaisz, and Serefin, all with different motivations for stopping the centuries long war.
It took me a little longer to read than usual because I wasn't really able to speed read! Each word held my interested and I was so captivated by the central characters and the plot that I just wanted it to last forever! When I was reading, each chapter packed a punch. I love writing that grips you and leaves you wanting more. I absolutely loved the world building, the religious aspects were handled with care, and the star crossed lovers theme had my heart pounding!
I have heard conflicting reviews about the names and how difficult they were to pronounce but this didn't bother me because I read difficult names more like a picture. Even if I can't pronounce it well, I see the name as a snapshot and knew who was talking/what was going on. You can find a handy pronunciation guide here!
With all of that being said, the last few chapters of the book were exciting but fell flat/confused me a little bit. I felt like the first 3/4 of the book the questions I had would slowly reveal themselves and then the last 1/4 left me desperately needing answers. Character backgrounds and certain locations were constantly hinted at but never explored. The ending had many twists that happened at all once. I have so many questions!
Things that worked for me (could be considered slightly spoilery):
I felt as though this read like more of an Adult Fantasy vs YA but that could be just my feelings! It did not affect my rating at all, especially since I am loving adult fantasy right now. I would recommend this to YA readers older than 16!
I am obsessed with Ostyia and want more. She is a strong, queer, amazing character and Emily can go to amazing places with this character!
About halfway through the book I started getting so many feelings for both POV. At first I was so invested in Nadya's storyline and was irritated with Serefin but by halfway I was loving Serefin and wanted him to succeed just as much!
The excerpts told at the beginning of each chapter, oh my gosh! I usually skim stuff like this but I was so intrigued, especially the writing about who people prayed to and what magic they provided!
The star crossed lovers! Wahhhh!
Things that didn't work for me (could be considered slightly spoilery):
Some of the magic system is still needing to be thoroughly explored. I  had a lot of questions as to how Nadya's powers worked but I think as we go along more will be anwered!
Why was Serefin such a feared and powerful blood mage but didn't do much to prevent himself from almost being killed multiple times? I never really saw his badassery.
What happened to Kostya? He isn't really mentioned at all unless maybe he is the Konstantin mentioned in the excerpt of chapter 30! What was the purpose for Kacper, Parijahan, and Rashid? Where did her beads go?
Malachaisz total 180. He was a character that was unsure of himself, sweet, questioning his life and wondering if he could be loved by his enemy, to the plot twist of being cruel, selfish, power hungry. It just didn't feel organic. It was almost TOO much.
Overall, I LOVED this book! I think that the world building and the character development are going in such unique places. It was deliciously dark and I am invested in these characters and what is going to happen. I will most definitely be reading any sequels as I HAVE TO KNOW what happens! I think anyone who loves dark magical worlds will adore this book and it's characters!
You can pre-order pre-order this book at Amazon, or search any retailer online or book store closest to you! Available April 2nd, 2019!
~Rachael
IG: @rqdavis_